London Olympics

London Olympics 2012
The London 2012 Games are now over, but what an experience they were! Special trips, such as this, set our participants in very unique cultural learning experiences that will never be repeated. Because the games were centered around the Olympic Park in east London, the tour provided a tour opportunity to the many historical venues of great interest and significance. For that momentous event, London became the site of a number of new sports venues. Up to 180,000 spectators a day entered the Park to enjoy the Games, making it the principal focus of Olympic activity.
The main venues – the Olympic Stadium, Aquatics Centre, Velodrome and BMX Circuit, as well as the hockey, handball and basketball arenas – were easily accessible through a network of footbridges and walkways within the Park.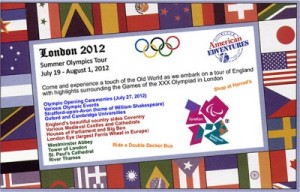 The Olympic Village was within walking distance of all the venues in the Park, enhancing the experience for athletes and officials. The use of other prestigious venues – such as Wembley Stadium for football, the All-England Club in Wimbledon for tennis, Lord's Cricket Ground for archery and Horse Guards Parade for beach volleyball – was also a feature of the London 2012 Olympic and Paralympic Games.
The London 2012 Games included a four-year Cultural Olympiad. It reached a climax with the Olympic Games Opening Ceremony on 27 July 2012, starting a 60-day festival of sport and culture across the UK, as the Olympic and Paralympic spirit crosses the world once again.
Read More At: http://www.olympic.org/london-2012-summer-olympics